VISAKA-GOING CASHLESS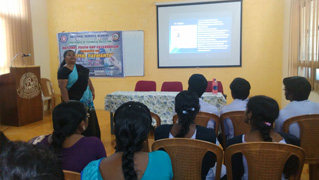 As directed by the Vittiya Saksharata Abhiyaan (VISAKA) Government of India, to promote digital payment systems, Workshop on Digital Payments was organized on 06/01/2017 on campus. Around 125 students and 50 members of staff were selected to promote the message amongst the peers and to the Community. The main objective of the workshop was to promote digital payment options as an integral part of Government's strategy to transform India into a cashless economy and to inform citizens about Government policies and about digital financial options available to them.
The resource person Mrs. N. Poongodi HOD /ECE demonstrated on:-
On line fee payment @ VRPT
Understand and promote all the cashless modes of payment adopted by Government of India.
She elaborated on the various digital payment modes:-
Prepaid Cards
Debit/RuPay cards
USSD (Unstructured Supplementary Service Data)
e- Wallets
AEPS (Aadhaar Enabled Payment Systems)
UPI (Unified Payment Interface)
POS and Micro ATM transactions
Payment mobile apps:
o Paytm
o Internet banking
o Mobile banking
o Sbi buddy
o Ola car service
o Uts train service
o Online purchase